TRAVEL THE WORLD WITH MONDAY KNIGHT
Within a week of the release of the story of Monday Knight, top model in the fashion world, her ride to fame was inevitable.
If you try to imagine the most illogical place for a famous gal like Monday Knight to be launched, the last place on earth would probably be in Grand Forks, North Dakota.
However, life is strange, and things happen. It was just by fate--or was it?--that Monday's creator, Janet Elaine Smith, and her husband were at Branigan's Restaurant when the waitress came over and asked them, "Do you know who that is over there?"
Not the "hippest" kids in the block, Janet and Ivan said they had no clue. "It's Smash Mouth!" the watress said excitedly.
Before long, a young teenager, Lisa, who "stalked" Janet and Ivan by spotting their big old yellow Lincoln came in to eat with them. Sort of an "adopted" daughter. When she found out Smash Mouth was there, she asked the waitress if she could go over and talk to them. The waitress said they were very nice and she was sure they wouldn't mind.
About half an hour later, Janet took a copy of Monday Knight and went over to join the group. She held the book up and asked them if they would like a copy of it, informing them that she wasn't as famous as they were, but "I'm working on it."
Not only did they enthusiastically accept the book, but they asked Janet to autograph the book--and Janet forgot to ask them for their autograph!
Then one of the fellows laughed and held the book high up in the air. "We're going to take Monday Knight on tour with us!" he announced to everyone within earshot.
And sure enough, three weeks later, when they were guests on the "Live with Regis and Kathy Lee Show," they held up a copy of the book and announced to the whole viewing audience, "We decided to take Monday Knight on tour with us. And of all places, we found her in Grand Forks, North Dakota!"
Oh, and in case you were wondering why they were in such a remote spot...they were the opening act for N-Sync, who were performing at the Alerus Arena.
From there, Monday's fame spread and people all over the country were inviting Monday Knight to go with them. You can find out all about it by clicking on Monday's face up above.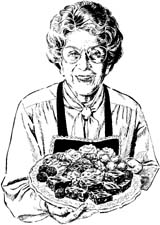 PATRICK AND GRACE
(From the Patrick and Grace Mysteries)
It wasn't long after the launch of the first Patrick and Grace Mystery, In St. Patrick's Custody, that people--especially women--began asking authoe Janet Elaine Smith, "Why did you pattern Grace after me?" And these were people Janet had never met!
Janet's reply is always the same. "Grace is not really anybody, but she's a little bit of everybody."
Be that as it may, the women readers think Patrick is "so cute," and the men strove to emulate him in his charming ways.
So, they quickly rose to the place where people often call them "Our favorite senior sleuths." One reviewer said, "Patrick and Grace get into more trouble than a couple of two-year-olds, but they have more fun than a barrel of monkeys getting out of it."
There are now three accounts of their capers: In St. Patrick's Custody, Recipe for Murder, and Old Habits Die Hard. And there are lots more planned. And yes, they insisted that they were every bit as important as Monday Knight, and surely at their ages they deserved their own website. So, click on either of their pictures, and you can learn a whole lot more about "America's senior darlings."

Maggie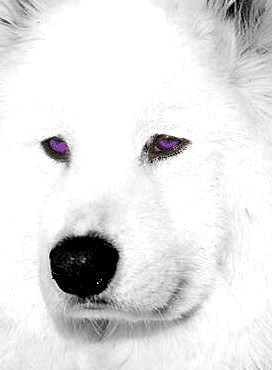 She sees more than a seeing eye dog
Here's Sam
You never know what you'll find in all that seaweed
STORM
Not since Moses was lost in the bullrushes has there been this much excitement over a baby. Worth more than the $10 million the "rags" pay for famous people's babies' pictures, this one is worth more than all the gold in the world. You will follow Storm where Maggie leads him--down the railroad tracks and right into your heart. You will feel Sam's pain when he lets Storm go to meet his destiny; even an "adopted" dad feels the tugs at the apron strings when they are cut. For more of their story, click on their pictures.